Today marks a proud moment for Leader Internet with the Launch of our October CMS eBook - Up and Running. It is the complete guide to setting up an October CMS site and the ultimate resource to help you start from nothing and get a production site online with our step by step guide.
Buzz has been circulating since we announced the release date on twitter with lots of emails and messages coming from people looking to know more about the content and topics. We responded to everyone and distributed chapter one as a sneak preview to get some feedback.
The good news is that the wait is over and October CMS Up and Running is now available to buy directly on our sale.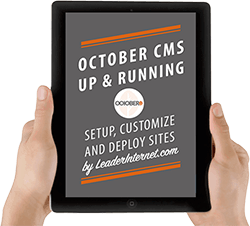 For even more valuable tutorials, get the full eBook with Bonus material October CMS - Up and Running.
Why We Wrote the October CMS ebook - Up and Running
Leader Internet have been building sites with October CMS since we got tired of trying to hack Wordpress to meet the high performance and bespoke functionality that we require.
We've always been Laravel fans and the natural step was to migrate to a Laravel powered CMS. October quickly stood out as the market leader but we decided to research all the Laravel CMS options so we could be certain we had the best system. After experimenting with Craft, Statamic and LavaLite we decided that October was the choice for due to the back to basics approach. We wanted something simple that allows us to build advanced functionality on top while still giving users a nice backend to operate.
After putting our eggs in the October basket we set about building a site using the guides provided. However we quickly found that the October CMS Documentation was lacking on the initial setup and recommended approach for doing things. Sure, it did point us towards the installer which works nicely but after that we were on our own when it came to project file structure, understanding where the Laravel app folder went, serving a site locally, deploying to production and making custom changes.
Following some advanced google searches and lots of trial and error we settled on a procedure that works for us and used this to quickly fire up our next couple of sites.
As we got more involved in the October CMS Community on slack, forums and our own blog posts we found that lots of developers had the same struggles as us. Some even considered abandoning October CMS because it was taking more than a few hours to figure out. Everyone had a different approach which meant that months later when searching for an answer to a problem on the October forums, the recommended solution may not have worked for them due to the mistakes they made with the initial setup months previously.
For all of those reasons we decided to put our procedure onto electronic paper and write the October CMS eBook, Up and Running.
Our Aim
We hope to standardize the way October CMS projects are setup.
This will not only benefit the users of our ultimate guide but the entire community. When we have brought a common procedure to October CMS setup, developers can move on to building their sites quicker. They will then come across problems and share the fixes with the October community and as more people are starting from the same base, those solutions will work for more people.
Instead of wasting time trying to figure out what to add to their gitignore file they will be building plugins that help the entire community and allow the rest of us to add rich functionality without spending days developing it.
What You Get
With October CMS Up and Running you get a detailed guide with screenshots, code snippets and examples that systematically show you how to install October CMS locally and customize it. You will then quickly move through the phases and deploy to production.
We go into fine detail on:
what your project repository should look like
getting a local version running quickly
how to put that site live on a production server
how to automate the deployments on every commit
how to handle clients adding content on production
Who Is This ebook For
If you have wasted a single minute trying to figure out stuff when setting up your site this guide will show you the way. The next time you build with October CMS you can accelerate through the early stages and get onto creating the USPs of your product without any delays.
Contribute to the October CMS Project
30% of every purchase is contributed to the raise funds for October CMS project. The October Team give the software away for free but they need funding to keep it alive. It's in everyones best interests to have a thriving October by funding the October developers so they can build more features that make things better and provide us with more functionality that we can add to our websites.
Conclusion
The October CMS eBook - Up and Running is available from LeaderInternet.com.
We wrote it to standardize October CMS setup and it will help you get your October websites started the right way in the shortest time possible.
Your purchase will fund the October Developers to keep providing more great features that will keep the project alive and grow its market share, which helps everyone in the October CMS community.
Head over to our details page for more information.