Last week we decided to join the Official October CMS Partners Program. There are many good reasons to do this if you are building websites with October and we feel this is a win-win scenario for Leader Internet and October CMS.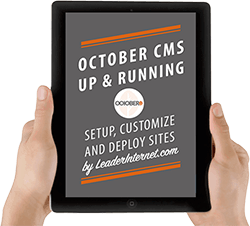 For even more valuable tutorials, get the full eBook with Bonus material October CMS - Up and Running.
What is the October CMS Partners Program?
The Partners Program was launched in early 2017 and offers companies the opportunity to be displayed on the Partners page of the October CMS site in return for an annual subscription.

Fund The October Developers
The primary reason we joined is that all funds raised will go directly to supporting the development of the October platform.
We've come to rely on it since we decided to move from Wordpress to October CMS here at Leader Internet HQ and it's now central to every website we build. October is free to download and install so without charging an upfront cost, the October Developers are not taking in any money for their efforts.
It's very noble of them to distribute their hard work for free but leaves us exposed if they can no longer work on the project due to financial constraints. All of our websites would then be built on a platform that has no support or ongoing development and as Leader Internet is a company offering October CMS Development services, it's a dangerous position to be in.
For that reason, we contributed by joining as a partner in an effort to secure the future of October CMS and subsequently look after the needs of Leader Internet and our clients.
Get Quality Leads
To see the Leader Internet logo displayed on the website of a CMS brings a level of credibility to our web development company in Ireland and beyond.
We have been reviewed by the October CMS team and our work is seen to be of sufficient quality that they are comfortable recommending us to their audience.
OctoberCMS.com receives around three million unique hits a month and some of that highly targeted traffic will come our way. It puts us right in the shop window for people searching for October CMS Development companies and will give us an opportunity to impress an already engaged audience.
Price
There are a Platinum, Gold, Silver and Bronze subscriptions tiers with the cheapest plan starting at only $150 per year. This is a very small investment for a company that is serious about providing October CMS development services. Regardless of the tier, it is only a one-year commitment so if we are not happy with the results we don't have to renew it after 12 months. On the other hand, if we are delighted we can increase our subscription level to achieve a more prominent position on the partner's page.
Backlink
A nice little bonus of the Partner page listing is that the link to LeaderInternet.com is not a rel=nofollow so the link juice is being passed along to our site.
OctoberCMS.com currently has a Domain Authority of 42 so this link from a powerful domain in our niche will be looked upon very favorably from google the next time they crawl the sites.
It is estimated that it takes 18 man hours to build a single link so in this case we have taken a very efficient short cut and gained a powerful backlink to our site.
Conclusion
We are delighted to be an Official October CMS Partner and there are a number of reasons why we joined the program. The most important of those is that it contributes funding that help develop the October CMS Project.
We're looking forward to a mutually beneficial relationship and building more websites with October CMS!