Today we're excited to launch new features in SG Widget, which add powerful new tools for account holders to start collecting emails quickly.
We've listened to all of the feedback and requests received and selected the ones that will make the greatest impact on the largest number of users. We're committed to being the best SendGrid Opt-In Form on the market. These features help us get there.

List Dropdown
Until now, the only way to link a widget to a SendGrid List required opening the list in the Sendgrid backend, copying the list ID from the URL in your browser and then pasting this back into SG Widget. Lots of people contacted us to say this was too difficult and error-prone.
Solution
We fixed it by changing the way a widget is linked to your Sendgrid list. When creating a widget you now have an easy to use drop down where you simply select the list you want to send emails to. We automatically pull the lists of our your Sendgrid account and display them so you can easily click the list you want without leaving the SG Widget interface. Easy.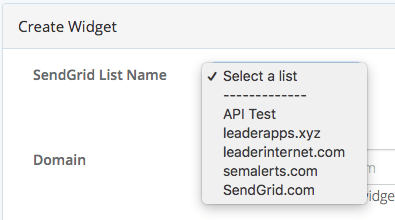 Subscribe Count
What good is a subscription widget on your site if you don't know how many people are using it to sign up? Users had been in the dark about how many subscriptions were coming from their widgets as there is no way to get this information from the Sendgrid backend.
Solution
Now see how many people have subscribed to your list on widget details page. We record every signup and display this for you so you can see exactly how efficient your widget is. If you have multiple widgets on a site you can see which one is driving more conversions and get a better understanding of where your list growth is coming from.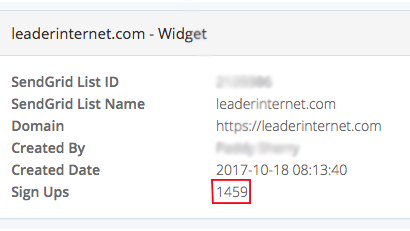 Dev URLs
Security is at the heart of SG Widget and one of our most popular features is domain whitelisting. This ensures that requests to subscribe to your list must come from the domain you have specified and avoids your list being spammed.
Unfortunately, this made it difficult to set up SG Widget on a development site if the URL was different. Developers told us they need a way to make SG Widget work locally or on a staging site as their manager won't let them deploy to production before it has been tested in an internal environment.
Solution
We've added Dev URLs as an option on the widget details page so you can specify a test site and integrate SG Widget there instead of testing after it goes to production.
Name Field
In an effort to keep SG Widget as simple as possible we only allowed email to be added to the form. However, sometimes an email address isn't enough and customers like to collect more information from their users to make their marketing campaigns more personal.
Research has shown that personalized emails increase open rates by 14% and conversions by 10% so we understand why customers were requesting it.
Solution
Therefore we added name as an optional field on each SG Widget instance. We still want to keep things simple so it's not included by default but you want to add a name field to the front end form, just check the Name box and it will be included.

Less than half of online retailers send personalised emails. Get ahead of the competition today.
Coming Up
We are continually improving SG Widget and adding features. Some of the items we have come up are:
Email validation
Double Opt-in
Analytics
GDPR
A quick note on GDPR. Lot's of customers have been contacting us to ask if SG Widget is GDPR compliant ahead of the May 25th deadline. The answer is and always will be yes. We do not store any personal information about people that have entered their details into the widgets on our customer's sites. We post all through to Sendgrid and it is managed on their side so you can drop in SG Widget and start collecting emails without worrying about breaching any of the new regulations.
Conclusion
These new features make it easier than ever to set up a SendGrid Opt-In Form on your site with SG Widget. Just put your API into our backend and create a widget.
Are there are features you will like to see in SG Widget? Is there any functionality that needs to be improved? Email in or let us know in the comments below.